Full Employment with the Diversity Industrial Complex
The most significant change produced by our anti-racist moment might just be a massive expansion of the diversity industrial complex, turning revolutionaries into Kafkaesque administrators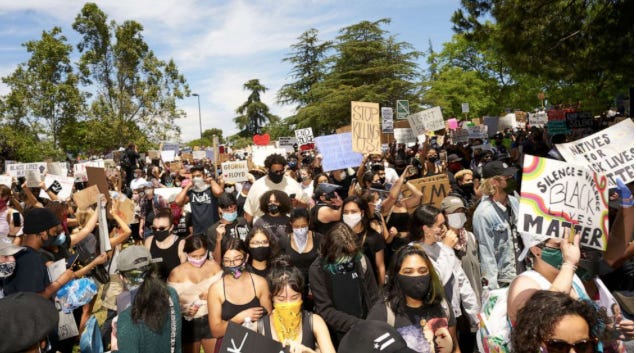 Elite Status Anxiety 
I don't think there's a better columnist around right now than Ross Douthat. He's been particularly good lately writing about our anti-racist moment. But a few weeks ago he produced a column I thought was good even by his own lofty standards, called "The Real White Fragility."
You should read it for yourself, but what Douthat suggests is that "elite overproduction", an idea he credits to Peter Turchin, may help explain the cathartic explosion of unrest and radicalism that has followed in the months since George Floyd's death. Specifically, it may help explain why the protests and riots that have taken place in America in recent months seem to include large numbers of white, young, university educated revolutionaries. 
Elite overproduction is a fairly straightforward idea; elite educational institutions are producing too many credentialed and ambitious citizens whose expectations are jobs in elite institutions and fields, jobs that have not expanded commensurate with the expansion of university graduates. 
Douthat suggests that the overproduction of aspiring elites, who work hard to get into the best schools and spend lots of money to do so, on the expectation of positions and jobs in increasingly scarce "elite" fields like academia, journalism, cultural, and other professional fields is producing a legitimacy crisis of the meritocratic system. That, in turn, explains why things like Robin DiAngelo's grotesque white fragility grift might appeal to young white progressives: 
"Imagine yourself as a relatively privileged white person exhausted by meritocracy — an overworked student or a fretful parent or a school administrator constantly besieged by both

...Wouldn't it come as a relief, in some way, if it turned out that the whole "exhausting 'Alice in Wonderland' Red Queen Race of full-time meritocratic achievement," in the words of a pseudonymous critic, was nothing more than a manifestation of the very white supremacy that you, as a good liberal, are obliged to dismantle and oppose?

...And wouldn't it be especially appealing if — and here I'm afraid I'm going to be very cynical — in the course of relaxing the demands of whiteness you could, just coincidentally, make your own family's position a little bit more secure?"
What is getting overlooked, I think, in discussions of this elite status anxiety are the deeper roots of what this anxiety is about. Turchin is not the first person to examine the dangers of an overeducated, underemployed population. A 1970 paper by political scientist Lenore O'Boyle called "The Problem of an Excess of Educated Men in Western Europe, 1800-1850" examines this as well. O'Boyle explains what I think current discussions neglect, namely that this elite anxiety isn't just about income or underemployment in a narrow economic sense, it's that they lack, and crave, the prestige that these elite jobs bring. A generation of people brought up not simply expecting to earn lots of money, but to be recognized as elites and granted the prestige and status that comes along with that. As O'Boyle defines it: 
"What can be said is that too many men were educated for a small number of important and prestigious jobs, so that some men had to be content either with under- employment or with positions they considered below their capacities. There was a disparity between an individual's estimate of his own worth and the rewards in money and status that his society accorded him. 
This explains why so much of the conflict over the ideology behind the protests, and the cancellations that we are spending so much time talking about, focus on elite jobs and institutions. Most of the high-profile cancellations are people in these elite, high-status positions, brought down by social media mobs dominated by the aspiring, overeducated elites who want these prestigious jobs they feel they deserve. The more scarce these jobs are, the more likely cancellations will be weaponized as a form of elite job competition. It's also why in the fields where jobs are particularly scarce, like professional poetry or young adult fiction, cancellations seem particularly cynical. 
The Equity, Inclusivity, and Diversity Industrial Complex 
But the most interesting aspect of this lockdown-induced outpouring of collective rage hasn't been the protests, or the cancellations, but the woke job creation that is going on. The ideology behind things like "white fragility" is increasingly being transformed into what can be described as an equity-inclusivity-diversity (EID) industrial complex that might end up being the most significant long term structural change that emerges out of the protests. 
One of the most common responses in elite institutions as they promise to address systemic racism has been the creation of new jobs and positions that will supposedly help to do so. For instance, the Washington Post created a set of new positions that will be focusing on racial issues. This included hiring a 'Managing Editor for Diversity and Inclusion.' At Princeton, the administration announced, like many other elite universities, new courses (which means new teaching opportunities) focused on racial injustice, as well as new projects and funding for research to explore and address racial issues. Stanford has created a new Centre for Racial Justice at its law school.
This direct job creation is just the tip of the iceberg. The real EID industrial complex is in the creation of a vast number of new jobs dedicated to the promotion and advancement of the basic tenets of this ascendant ideology through the expansion of human resource departments to deal with these issues, the creation of new EID bureaucrats and administrators in universities, corporations, government departments, the rise of EID consulting and mandatory courses and workshops for employees, new jobs and potential litigation for lawyers, as well as courses and modules in law schools to teach aspiring lawyers about these things. 
In the bestselling Ibram X. Kendi book How To Be An Antiracist, one of Kendi's central solutions is to pass an anti-racist amendment to the U.S. Constitution and permanently establish and fund a Department of Anti-racism. This department:
"would be comprised of formally trained experts on racism and no political appointees. The DOA would be responsible for preclearing all local, state and federal public policies to ensure they won't yield racial inequity, monitor those policies, investigate private racist policies when racial inequity surfaces, and monitor public officials for expressions of racist ideas. The DOA would be empowered with disciplinary tools to wield over and against policymakers and public officials who do not voluntarily change their racist policy and ideas." 
The radical tendencies of the bourgeois bolsheviks in the streets might make them seem like true revolutionaries, but what this movement seems to actually want to create, with remarkable success, is new employment opportunities for true believers in the new anti-racist creeds. Racism won't so much be solved by tearing society down, but by massively expanding new professional and managerial jobs that can guarantee full employment for the credentialed class of true believers. 
O'Boyle's thesis is that the revolutions that swept across European cities in 1848 were because a large surplus of resentful and overeducated men felt society was denying to them what they were rightfully owed. O'Boyle looks at Germany, where university education was cheap, and was "emphasized as an avenue to wealth and power." This ending up producing an excess of ambitious, but resentful and frustrated men who felt society was not allotting them the status and comfort they deserved. The same was true in France. But in Britain, the opportunities produced by industrialization that had yet to fully materialize on the continent kept this excess surplus of overeducated men much smaller, and helped insulate Britain from revolution.
What if the EID industrial complex actually helps to reduce the scarcity of opportunities in elite fields and institutions that will put a lid on the unrest that overproduction breeds? The EID industry is worth billions of dollars, and in a way it might be the solution liberalism offers to both the radical progressivism of this ideology, and to the challenge posed by elite overproduction. 
The meritocratic pretenses that we've adopted as the guiding organizing principle of modern life were always somewhat illusory. No amount of fiddling with the meritocratic selection process, especially when built around university credentialing, will ever be truly meritocratic. There will always be parents who will do whatever it takes to get their children into elite schools, and find ways to give their children an advantage over less fortunate ones. 
The ideology of the new establishment could be used to build a new elite organizing principle. Gone are meritocratic pretensions, replaced with an ideological commitment that becomes the defining characteristic of elites and elite institutions, and a job boom in the EID industry to enshrine a new ideology that can provide the employment opportunities that limit the dangers of elite overproduction. This is well underway as the ascendant ideology of EID rapidly becomes an official creed of all elites institutions, unable to resist. 
A Kafkaesque Future
As the EID industrial complex grows and becomes evermore entrenched and institutionalized in every part of the elite and professional world, its radicalism will need to evolve. But its evolution is going to, out of necessity, take on an increasingly bizarre and seemingly contradictory form. As it becomes more entrenched in modern life, the EID industrial complex will, out of material necessity, became more conservative and less revolutionary. 
As it grows, and becomes more powerful, the incentives will change to make the EID industrial complex increasingly about the defence and preservation of the new status quo, even if it is masked in rhetorical radicalism and revolutionary zeal. But once it becomes entrenched, genuine and radical change will become a threat to this new order, and so the EID industrial complex will paradoxically have to defend its entrenched power, and in the process seek preservation and not just the dismantling and destruction of existing institutions. If the adopting of this new ideology helps provides full employment, then the last thing its adherents will want to do is sacrifice those jobs and the status they bring. 
But the nature of this ideology is not one naturally adapted to preservation. Its impulse, and the impulse of its adherents, is to constantly discover new sources of oppression and evils to be overcome, structures and institutions to be torn down. But there's a way for this challenge to be overcome. 
New forms of oppression will need to be sacrificed on the altar of progress, and the incentives for the EID industrial complex will be to preserve its own power by discovering new reasons for its existence. New barriers to be overcome means an expansion, and more EID jobs. But because actual revolution will be off the cards and a threat to this new establishment, these barriers and forms of oppression will need to be found in, and overcome, in highly symbolic and surreal ways. 
Radical changes won't be the way of overcoming these new forms of oppression, instead, the solutions will also be symbolic. They will require symbolic declarations of allegiance to the new ideology, and a profession of faith in the new creed. This won't be the dystopia of George Orwell and Big Brother. Instead, it will be the soft bureaucratic, self-disciplining despotism of Franz Kafka. You won't disappear if you dissent, but you'll find yourself under the pressure of a bureaucratic regime that isn't oppressive, so much as it's stultifying and soulless. You'll be expected to profess radicalism, and a commitment to the creed, but in the process what you're actually declaring loyalty to is the new status quo.
It seems hard to believe right now, given the vitality and passion that animates the protests, but this movement seems well on its way to turning iconoclasts into administrators, to satisfy the angst produced by a failing and shrinking meritocracy. It will turn revolutionaries into defenders of the new establishment.
Does Canada have an Elite Overproduction Challenge? 
Normally I won't just write about America, but I've made an exception here because the transformation taking place in America is taking place in Canada too. We all have to participate in American politics now, but there are some key differences with how this transformation is manifesting itself here.
Around 54% of Canadians aged 25-64 have college or university credentials. Of this demographic, nearly 30% has a university degree, and Canada ranks first among OECD nations in the proportion of college and university graduates. Too many Canadians go to university, but for other reasons (this will be the topic of a future newsletter). 
Despite having a large university educated population, one thing that makes this a little less destabilizing is the nature of our 'elite.' Firstly, Canada has an elite class -- l et's call them the Laurentian clique -- but it's an extremely small, parochial club. This makes our elite less ambitious, more insular and rather mediocre, but it also walls it off from the sorts of meritocratic pretensions of the new American elite. More on this another time. One of the accidental benefits of this is that joining it isn't really something we can aspire to through meritocratic means, but one can still succeed in Canada, and gain both wealth and prestige without necessarily being a member of the Canada club. 
Canada's university landscape also importantly lacks a true Ivy League that brings with it expectations of acceptance into the upper echelons of society. We have lots of excellent universities, and a few you could describe as elite, but the average student attending the University of Toronto or McGill doesn't enter with the same expectations of prestige, status, or a free pass into the Canadian elite the way that students entering Harvard or Yale do. 
The difference in prestige imbued by the most and least prestigious Canadian universities is much smaller than the difference between Harvard and an unremarkable state university. This is a good thing, and while we should aspire to have world class universities, we really shouldn't want or desire a Canadian Ivy League. 
These two characteristics of the Canadian elite lessen the anxieties and pressures that elite overproduction creates in Canada, because we simply aren't producing a massive surplus cohort of university educated students who see that education as a passport to elite status. But the pressure manifests itself at a level below that, I think, less as elite pressures and more as pressures on the professional classes. 
We've had anti-racism BLM protests, and it has dominated the discourse, but cast your mind back to that mythical time before pandemic, and the protests that erupted across the country in support of the Wet'suwet'en blockades. The crowds in these protests across Canadian cities were very much the same as the BLM protests now, populated by lots of young, white, well-educated and credentialed people. 
Our elite fields and institutions -- universities, media, cultural/artistic fields, and the legal profession -- face similar pressure in terms of not producing enough high status jobs, but because the elite pressures aren't quite as strong here, the anxiety manifests itself in a different way around a difference cause, and the focus (understandably) tends to be on our own version of original sin; colonialism and the treatment of Indigenous Canadians. 
We have a growing EID industrial complex just like America, and we have the kind of elite infighting over jobs in elite institutions like the media and cultural fields, especially as these jobs become increasingly scarce. But the purpose of it is not simply to provide full employment on the basis of a new creed. It also serves a legitimizing role to help sanitize political and cultural power in this country. It does so not really by legitimizing the Canada club, but by legitimizing the power of our urban managerial and professional class. 
I'm still thinking about this, and exactly how this works here. We lack the kind of commentary on this transformation that is taking place because of our stale media climate, and thus there aren't interesting voices like Douthat and other intellectuals and commentators publicly discussing it. We have our own ideological transformation taking place, for similar material reasons, but it is still different in important ways. In a way, perhaps we are more down the Kafkaesque road than America, we already have the suffocating intellectual climate where certain ideological premises must be accepted as unquestioned truth, and discussion around these questions can be about nothing more than affirmation. This is a question worth thinking more about. 
Weekly Recommendations 
There will be no consistent pattern to these weekly suggestions, the only theme will be that I think they are worth your time: